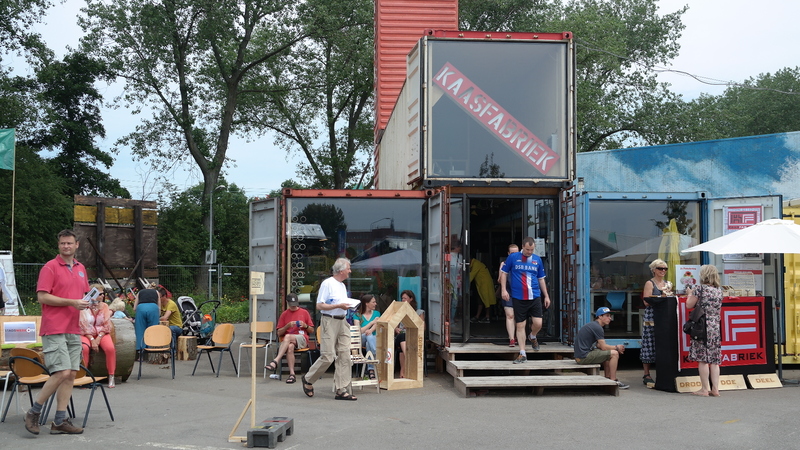 Kaasfabriek | FabLab regio Alkmaar
https://fablabs.io/labs/kaasfabriek
Pettemerstraat 15, Alkmaar, Noord-Holland, 1823 CW, Netherlands
Kaasfabriek – FabLab regio Alkmaar – heeft zijn thuisbasis in Alkmaar Overstad met een hoofdgebouw van containers. Onderdeel hiervan is de knalgele Kaasfabriek promocontainer die mobiel inzetbaar is voor festivals, schoolpleinen en evenementen. Er is een wekelijks open inloop waar je altijd welkom bent om kennis te maken. Kijk in de agenda voor alle activiteiten.
MISSIE
Opzetten en uitbouwen van de Kaasfabriek tot de hub waar creatieve makers op een zo jong mogelijke leeftijd – samen met professionals en hobbyisten – delen in en bijdragen aan de groeiende "open" bron van technische kennis en vaardigheden.
DROOM – DOE – DEEL
In de Kaasfabriek gaat veel om de 3D's. Je komt binnen met een DROOM of een idee. Vervolgens ga je aan de slag met de machines. Je gaat het dus zelf DOEN. En daarna DEEL je je kennis van het maken en je eindproduct met de andere kaasmakers. Iedereen mag na het doen van de Basiscursus FabLab zelf de machines bedienen, zoals 3D printers, lasercutters, vinylsnijders en meer. Je ontmoet hier andere makers en bent samen of alleen bezig met het ontwikkelen van nieuwe producten . Er is altijd een labmanager en/of een vrijwilliger aanwezig die je kan helpen tijdens het maakproces door kennis, vaardigheden en voorzieningen aan te bieden. De Kaasfabriek is vrij toegankelijk voor individuele creatieve "makers" als voor "makers" die projectmatig samen werken.
In een fablab wordt een maker uitgedaagd een prototype, maquette, kunstobject of ander product te ontwerpen en te maken. De Kaasfabriek heeft een 'open' karakter waarbij iedereen wordt gestimuleerd om kennis van het ontwerpen, het maakproces en het resultaat met elkaar te delen middels een-op-een gesprekken, door dingen vast te leggen in beeld, tekst en geluid en door het geven van trainingen en workshops.
Kaasfabriek FabLab regio Alkmaar is een stichting zonder winstoogmerk. De Kaasfabriek wordt mogelijk gemaakt door inzet van vrijwilligers en diverse partners.
VOOR WIE?
De Kaasfabriek FabLab regio Alkmaar is er voor creatieve makers van 2 – 100 jaar uit de regio Alkmaar- Haarlem – Hoorn – Den Helder. Denk aan: vormgevers, kunstenaars, architecten, ontwerpers, modelbouwers, modeontwerpers, case modders, robotbouwers, scholieren, studenten en andere makers van producten.
Links
Lab Capabilities
3D-Drucken
CNC-Fräsen
Laserschneiden/-gravieren
Schneideplotten
Machines
Discuss this Lab on forum.fablabs.io