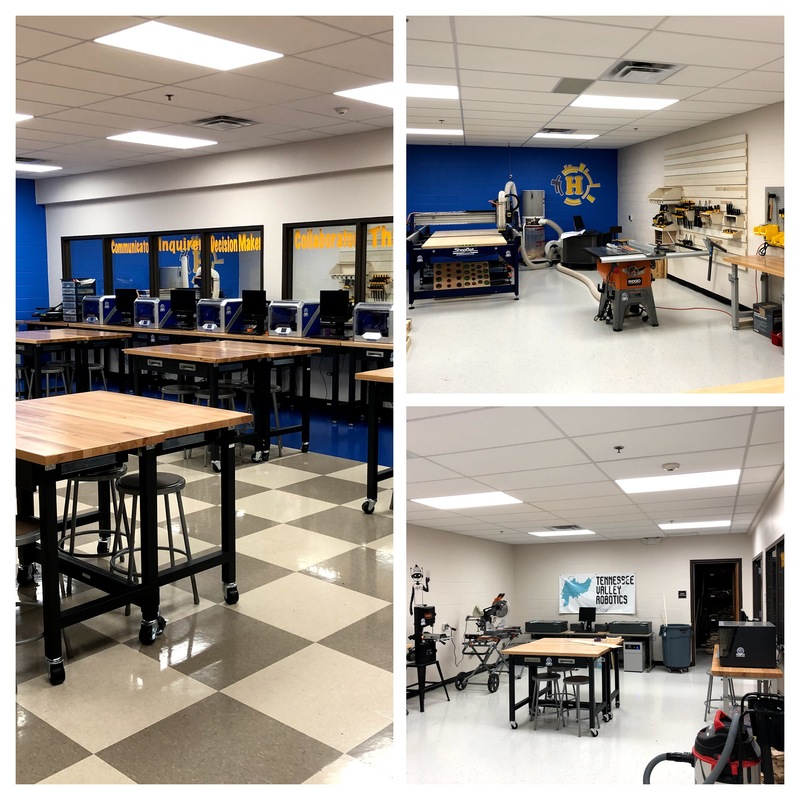 Hixson Middle School Volkswagen eLab
https://fablabs.io/labs/hixsonmiddleschoolvolkswagenelab
5681 Old Hixson Pike, Chattanooga, Tennessee, 37343, United States of America
The Hixson Middle School Volkswagen eLab is in a public 6-8 grade school in Hixson, TN, a suburban area north of Chattanooga, TN. We are one of 16 labs funded by Volkswagen Chattanooga and the State of Tennessee. Our lab curriculum focuses on the tools and skills necessary for solving real world problems through design solutions developed and digitally fabricated through the collaborative design thinking and engineering design processes. We want to harness the interests of students and teachers to design projects that align with content standards and push each of us to think critically while "making" to both invent and improve. The eLab is part of the HXMS Related Arts Schedule, bring two sections of 7th and 8th grade into the lab each semester, and two sections of 6th grade into the lab quarterly. The lab is also open to our school community at large during "open hours" two afternoons each week. The lab includes state of the art digital fabrication equipment like microcontrollers, robotics kits, 3D printers, laser cutters, vinyl cutters, and small and large scale C & C routers, as well as more traditional fabrication tools for woodworking, sewing, and a heat press. Students, families, and community members learn design thinking techniques and various digital fabrication software to examine complex problems and prototype solutions for problems encountered or uncovered in our school, community and world.
Links
Lab Capabilities
Impressão 3D
Usinagem CNC
Produção de circuitos
Corte Laser/Gravação
Para quem é voltado o fablabs.io?
Machines
Discuss this Lab on forum.fablabs.io