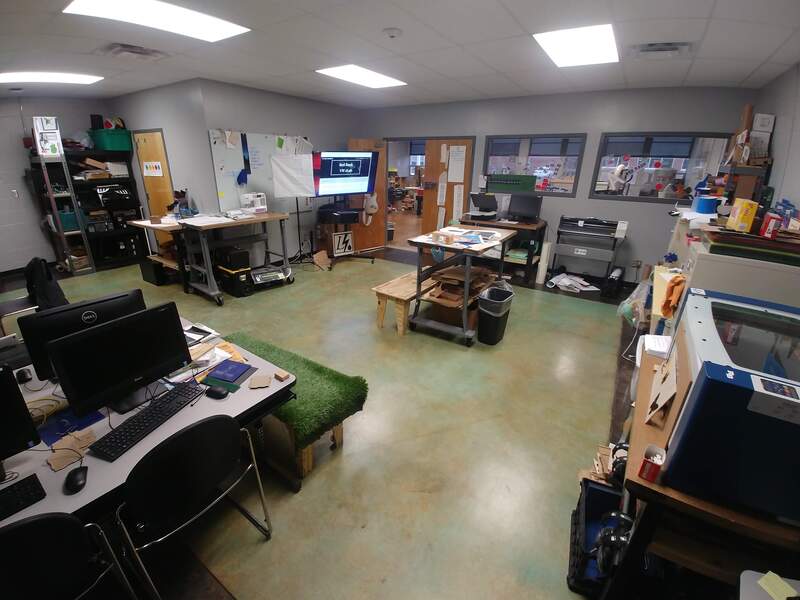 VW eLab at Red Bank
https://fablabs.io/labs/vwelabatredbank
640 Morrison Springs Rd, Chattanooga, 37415, United States of America
More and more, Chattanooga, Red Bank and Hamilton County are emerging as not just leaders in the Southeast, but a thoughtful, progressive force in the nation for innovation. The VW eLabs are carrying that forward.
So, imagine identifying a problem. Now imagine having the tools, materials and community members at hand, in a designated space and culture, that can help bridge the gap that often exists between classroom theory and real-world practice.
A VW eLab is a designated space in the school where we can all come to put classroom learning into applied practice. We have all kinds of cool tools that students and teachers can come use to prototype and revise solutions toward a goal.
Not only do teachers have an opportunity to demonstrate what they know, they also learn alongside students about the things they don't. Because no one can know it all. After all, the kind of problems students will face we haven't even thought about, yet. In the VW eLab, everyone is demonstrating the concept of lifelong learning
If you've never experienced it, working in a lab on longer-term projects offers opportunities for more informal discussion and relationships. The whole scene is pretty inspiring, uplifting, empowering.
Broad VW eLab Guidelines:
Do no harm.
ABC: Always Be Cleaning, develop a "clean as you go attitude."
It's okay if you don't know, ASK!
"...It's crucial to have a setup, so that, at any given moment, when you get an idea, you have the place and the tools to make it happen.
When you don't have a setup, there are many times when you get the inspiration, the idea, but you have no tools, no place to put it together. And the idea just sits there and festers. Over time, it will go away. You didn't fulfill it--and that's just a heartache."-David Lynch
Having a workspace, or as David Lynch calls it, "a setup," allows us the opportunity to bring abstract concepts into concrete reality.
The Lab is scheduled independently from the Master Schedule, so that it may be utilized by either campus. That schedule is facilitated by the VW eLab Specialist and The Hub Media Specialist through Google Calendar, Form, or email/in-person follow-up. Teachers/Collaborators are contacted to help facilitate the Lab's use as it relates to their "Student Engagement Module" (SEM). Working with the Specialists, teachers don't have to worry so much about knowing exactly how everything will work in order to implement their idea, SEM, PBL or SOLE. Together, we work through planning and facilitating the work students will do to demonstrate and deepen their learning.
The VW eLab Specialist actively recruits classrooms and students to use the facility, as it pertains to applied learning opportunities.
With its place in the Community School, the VW eLab at Red Bank is also being used by those visitors, Monday through Thursday, with programming and times varying according to interest. For instance, many students are interested in skateboarding as a pastime. Using the tooling in the Lab, resourceful students may prototype modular components to a pop-up skate park.
Links
Lab Capabilities
3D printing
CNC-Milling
Laser
Vinyl cutting
Discuss this Lab on forum.fablabs.io