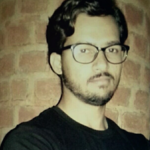 Tanveer Khorajiya
Joined over 6 years ago.
Bio
Tanvir Khorajiya, is Coordinator and Lab Manager at FabLab CEPT. He teaches Fab Academy Diploma course as Local Instructor at FabLab. He has past work experience in domain of additive manufacturing (3D printing), manufacturing design and digital fabrication.
He holds mechanical engineering degree and has fab academy diploma.
He volunteers with non profit organization ASME (american society of mechanical engineers) as Committee Member and Volunteer leader in additive manufacturing and early career engineers group. Tanvir has conducted several workshops and training sessions on 3d printing for engineering practitioners, designers, and students. He has strong outlook for maker movement and its impact as unconventional education platform to generate breakthrough innovation. His technical research interest is in domain of 3d printing.
Works at:
FabLab CEPT - Coordinator, FabLab (June 2017 - December 2019)