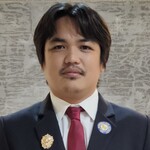 Rex Basuel
Joined over 4 years ago.
Bio
Rex B. Basuel is a Certified Computer Engineer, Faculty of Computer Engineering at Pangasinan State University (PSU), and Project Leader of PSU's Solid Freeform Research Laboratory (SoFFReL), the 3rd 3D printing research laboratory in the country and the first in Northern Luzon.
Basuel holds a BS Computer Engineering degree from PSU Urdaneta City Campus, a Master's Degree in Computer Engineering from Angeles University Foundation (AUF), Angeles City, Pampanga, and is currently pursuing a Doctoral Degree in Computer Engineering at Technological Institute of the Philippines (TIP) Quezon City. He also spent several months at Bataan Peninsula State University to undergo training and conduct research on Additive Manufacturing Technology.
Basuel's research interests include mechatronics, automation, and additive manufacturing. He has published 3 papers in these fields to date.
SoFFReL is currently anchored to the Machine Automation and Technology Innovation Center of PSU, which Basuel also heads. The Laboratory aims to provide a state-of-the-art facility that will be used to improve and modernize the processes and production of metal industries in Pangasinan through advanced 3D printing technology.
Works at: