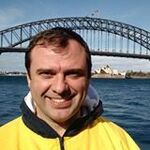 Anderson Macorin
Joined over 6 years ago.
Bio
Anderson Pires Macorin MBA Education

Educator Maker, has already worked with educational robotics and, in 2015, champion in the FIRST Lego League Category in Australia. Also in 2015, I started implementing the first Fab Lab for basic education in Brazil together with Heloisa Neves and Kenzo Abiko from We Fab, who introduced me to Fab Foudation and we were pleased to receive the visit of Sherry Lassiter at our FAB LAB in São Paulo Brasil.
In 2016, at the Fab12 conference, held in the city of Shenzhen China, he presented the Fab Lab Escola SESI-SP on the worldwide network of Laboratories.
In 2018 he participated in FAB13 in Chile and as Fab Manager he expanded 32 more Fab Labs in distributing access to students in the cities of the State of São Paulo forming the FAB LAB SESI-SP Network.
In 2019 he participated in FAB15 Egypt and created Bred Maker, a company that supports institutions in the implementation of Fab Labs in Public Schools.
He also started working as an educational consultant for Due Laser industry specializing in laser cutting and engraving equipment for schools, helping to develop a filter with nanotechnology.
In 2020, he started helping dental professionals with the challenges of the Digital Dental Flow and started the FAB LAB ODONTO project.
One of the missions is to help the Sennior Sorrindo program, from the University of São Paulo, to help people with social vulnerability to smile again.
For 2021 we will prototype ideas at the FAB LAB Odonto in order to manufacture many things to help professionals in digital dentistry.
Links
Works at: