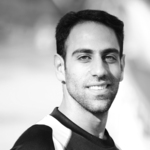 Ohad Meyuhas
Joined about 9 years ago.
Bio
Ohad Meyuhas, Architect, graduated from the Bezalel Academy of Art and Design Jerusalem with honors in 2010. 
His thesis project received awards and was presented at the global forum Archiprix in 2013. 
He has a Masters in Advanced Architecture from IAAC (Institute for Advanced Architecture Catalonia), Barcelona (2011),  and a Diploma in Digital Fabrication from the Fab Academy Program.  Ohad, the Fab Lab Guru in Israel, is presently working as a lecturer at the College of Management, and as Post-Secondary Education Program Manager at Stratasys Ltd.  He is in the process of establishing the Israeli Fab Lab network, and is both founder and manager of FabLabIL (Holon) and Fab Lab Jerusalem, where he is also an instructor and specially he is the Israeli instructor at the Fab Academy (FabLabIL).  He is now engaged in introducing digital fabrication to the Israeli educational system as well as the public in general.  His research projects includes exploring the relationship between digital fabrication, education, and occupational therapy, and how these new technologies can shape our daily life.
Works at: