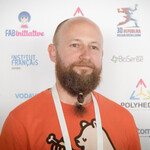 Nicolas de Barquin
Joined over 5 years ago.
Bio
I see myself as an explorer more than anything else, I had and still have the chance to do what I want and what I feel right. I love sci-fi, space… the last frontier and shit, I love the simplicity of our complex nature… but today, what is left to explore? Except if you have a shitload of money, I mean.
I think there is still very much to explore in humans capabilities, what we forgot about us and the small sparke of curiosity we, for most of us, have buried under a thick layer of adulthood.
Links
Works at: