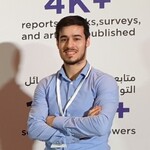 Moath Momani
Joined 12 months ago.
I have a bachelor's degree in mechanical engineering and a Fab Academy diploma in 2018.
Currently, I'm working in Qatar, to establish a new Fablab dedicated to kids as an educational technology engineer to develop the educational content, design new lesson plans, and set a new curriculum to teach the kids the digital fabrication skills.
Works at: