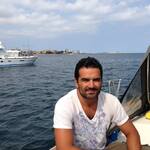 Lucio Pentagna Guimaraes Neto
Joined over 9 years ago.
Bio
KEY DISCIPLINE:
Tech hardware, 3D printers, digital manufacture, Prototyping, engineer at heart, maker
Lucio, Brazilian, Law Graduate and MBA in Business, ex executive, turned around his life, sold his house and bought a sailboat, crossed the atlantic twice and lived for a WHOLE year with his family aboard, sailing around the coast of Brazil and Caribbean Islands. Loves Inventing, sailing, practicing Kung Fu and cooking. Now living in Shanghai joined the Shanghai Hackespace (XinCheJian) and built from scratch the first working DIY 3D printer of the space. After that experience decided to make his life hobby and passion in to his full day activity. He then designed and fabricated his own 3D printers, creating different models with different capabilities including a portable 3D Printer. He founded the first FabLab in China "XinFab" www.xinfab.com. His present goal is to build a Fab Lab in a farm. Located in the south cost of Portugal and have an accessible place for anyone wanting to invent, prototype, change, make!
Works at: