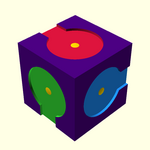 Juan Carlos Miranda Castro
Joined over 6 years ago.
Bio
I'm a teacher. I work for St. Jude School since 2009. I've been exploring some educational projects related to technology for some time, trying to find creative and inspirational ways to design activities for our students. My main goal is for our students to create, and learn in the process of creating.
Project based learning opens up a great range of possibilities for knowledge application, and allows creativity and practicality to work toghether in order to imagine solutions and solve problems.
As a teacher, I've enjoyed the process of learning along with students of all ages, and had the opportunity to learn and use all kinds of software and hardware tools.
I hope FabAcademy will give me more tools and opportunities to learn new things and solve new problems, and many new ideas to help my students learn and create. It is my intention to integrate as many aspects of FabAcademy as possible into my students' lessons and projects.
Links
Works at: