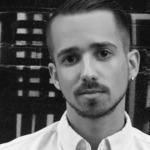 Jeferson Chicarelli
Joined over 7 years ago.
Bio
Jeferson Chicarelli é graduado em Arquitetura e Urbanismo (2015) pela Universidade de São Paulo (USP) e é fascinado pela cidade e a complexidade dos espaços urbanos. Em 2012, realizou um intercâmbio acadêmico na Universidade de Buenos Aires e em 2014, um estágio no Semaphore Lab da Universidade de Toronto. Em seu Trabalho Final de Graduação (TFG) estudou a fabricação digital em Arquitetura e o modo pelo qual comunidades podem interagir a partir dela.
__________
Jeferson Chicarelli graduated (2015) in Architecture and Urban Planning at the University of São Paulo (USP) and he is fascinated by cities and complex urban spaces. In 2012, he did an exchange program at the University of Buenos Aires and in 2014 an internship at the Semaphore Lab in the University of Toronto. For his Undergraduate Thesis he studied digital fabrication in Architecture and the way communities can interact through it.
Works at: