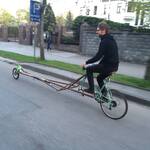 Justas Ingelevičius
Joined about 5 years ago.
Bio
I'm architect focused on sustainable architecture, open source technology, bicycle culture, sharing economy. Founder at startup "DigiDone3d" which develops open source computer aided design tools based on "Blender" 3D modeling software.
I believe that tools for designing things should be open source and available to everyone. Only with such open tools we can grow innovative ideas and build sustainable future.
Links
Works at:
Activity
Justas Ingelevičius was added as Co-Founder / Useless hacks inventor at Meškėnų laboratorija [Raccoons Lab] | FabLab
about 5 years ago
Justas Ingelevičius applied to be listed as an employee at Meškėnų laboratorija [Raccoons Lab] | FabLab
about 5 years ago