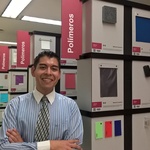 Iván Hernández Sánchez
Joined almost 10 years ago.
Bio
He currently collaborated in the Fab Lab of Mexico City of the Universidad Anáhuac México, Campus Norte, completed Master's studies and working on the thesis of degree, also carrying out studies of the English language. Among my passions are swimming (which I practice formally), volleyball, skating, video games and football. Teamwork and support for others is a great satisfaction for me. My main objective is to create equity among all people for equal competition, I consider myself responsible, organised and innovative. I always seek continuous improvement in what I do.
Links
Works at: