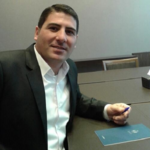 Feras Mestariheh
Joined 6 months ago.
Feras Mestariheh, is a Mechanical Engineer who finished his degree from Jordan University of Science and Technology. He gained a good experience in Digital Fabrication, Space Engineering, Satellite Engineering, Robotics, Virtual and Augmented reality, and IOT. He get this experience through working and training in many technological facilities, like innovation center at JUST University, NASA Centers at USA, Crown Prince Foundation of Jordan and FABLAB Irbid. Feras, has built and participated in other disciplinary Engineering project includes Solar Unmanned Submarine, Europa Moon Exploration System at NASA, Full size AI Humanoid Robot.
He was one of the founders, team leader and mechanical engineer to build the First Jordanian Satellite (JY1 Sat). Feras now is acting as an Educational Engineer at Studio 5/6, ICT Makerspace at Ministry of Transport and Communication in Qatar.
Works at: