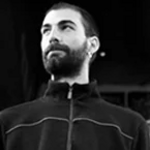 Pitarresi Mickael
Joined about 8 years ago.
Bio
I grow up in the south of france up until the age of seventeen and moved to the Northern Ireland where I lived for forteen years. Along many other projects, courses and workshops, I studied design for creative practice with a specialisation in traditional techniques of animation in Derry (NI), including a year at the bauhaus university (WE, Germany). All this led me to gradually work more and more with digital fabrication tools in makerspaces and fablabs.
I am now founder and part of the team in the Fablab of Cuenca Spain (community based) since 2015, where I live and work as an instructor and lab technician. I design content for various activities dedicated to all ages, my personal aim here is to convey the possibilities with digital tools and personal manufacturing techniques to the community. I am an open minded and creative person, always looking to contribute in solving old and new problems in the world.
Works at:
FabLab Cuenca - Co Founder, FabLab Technician (Manufacturing & Operations Manager)