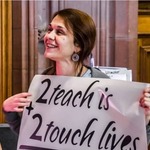 Delia Millan
Joined over 9 years ago.
Bio
Delia is the founder and director of FabLab Cuenca. She has recently been selected by the United States Department of State's premier professional exchange program to represent Spain at the International Visitor Leadership Program (IVLP).
In 2018 She was selected by Advanced Leadership Foundation as one of the Leaders in Technological Innovation and Circular Economy in Spain. She has worked with digital fabrication and in FabLabs since 2012, being part of the original team of the FabLab Nervecentre (United Kingdom).

Delia has been responsible for the development and implementation of all aspects of numerous FabLab projects. Her work has always been targeting both education and community empowerment especially in inclusion and gender equality projects. She applies the STEAM education system along with digital and creative practices in order to support community transformation through digital literacy, making and upskilling.
Previously Delia was director of the "Troll inc" video game studio (2010-2013)
She has worked as a researcher associate within the Intelligent Systems Research Center- Faculty of Computing and Engineering at the University of Ulster (U.K). (Serious Games and Virtual Worlds Team. Intelligent Systems Research Centre) 2009-2011
Delia was born in Cuenca, Spain. She complited a masters degree in Audiovisual Communication with Honors, she majored with Honors from the specialty art direction, 3D animation and visual effects from the Polytechnic University of Valencia E.P.S Valencia (Spain) in 2007.
Links
Works at: