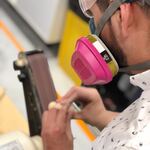 Jose Luis Andrade
Joined about 5 years ago.
Bio
Hola! I'm a Industrial Designer dedicated to developing technology. I've been making STUFF since I was 10.
At first i believed I was the only crazy one around the city but later on found some other people that now help me with our very own FABLAB!!!
Im in Love with all of the FABLAB comunity and hope someday i could apply to the FAB Acedemy.
ENG - SPA '
Works at: