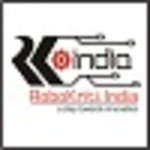 ROBOKRITIINDIA P LIMITED
Joined about 6 years ago.
Bio
RoboKriti.India is that which deals with the design, construction, operation and application of Robots and computer systems for their control, sensory feedback, and information processing.Management of our Group has always embedded a deep rooted belief in value education. Technical or practical education is treated as one of the best investment that a country can make in the knowledge era of coming times an educational system that is up to date, competitive and cuts across all barriers which ultimately enables a society to develop, assimilate and sustain a technology driven life style. Ultimately this results in the transformation of population burden human resource into a truly renewable resource.
We will impart futuristic technical & practical education and instil high patterns of discipline through our well educated & dedicated staff, who shall set global standards, making our students technologically strong, who in turn shall improve the quality of life of the human race.We deliver quality services through our various products, workshops, internships and training's. They are specially designed to impart quality education and hands-on training to aspiring students in the field of automation and robotics.
Links
Works at: