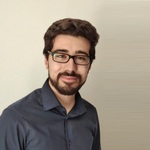 Alberto González Espinosa
Joined over 3 years ago.
Bio
FabAcademy graduate in 2021. Double graduate of Automobile Engineering and Industrial Design. Erasmus in Modena for more than a year. Experience with 3D printing, laser cutting and CNC milling, converting designs created in photoshop and by hand sketching to real prototypes with CATIA V5 and AutoCAD. Defender of the mixing of industrial design with concurrent and collaborative engineering. Passionate about automobile, design and coachbuilding.
"A perfect team will be the one that combines designers, engineers and artists, so that the created objects will have perfect usability, impeccable functionality and can generate emotion in the user"
Works at: