Other Machine Co
Recirculating Coolers (Advanced Low Temp.)
Performance
Temperature range from -20°Cto 40°C.
High cooling capacity up to 7.1kW at 20°C.
Powerful circulating pumps up to70L/min., 6 bar.
Precise temperature stability ± 0.2°C(at 15°C) without heater.
- Innovative and exclusive controller can adjust the cooling capacity from 1% to 100%.
Refrigerating system is designed to reduce energy consumption and maximize refrigerating efficiency.
Convenience
Designed to simplify operation with a touch screen type display.
- Setting and resolution indication 0.1°C/°F.
- Quick keypad lock prevents accidental parameter changes.
Bright LED water level indicator can be seen from a distance.
Optional external sensor can be connected for more actual temperature control.
Built in pressure gauge for checking pump pressure at a glance.
High/low pressure gauges for condition diagnosis of refrigerating system at a glance. (for H type)
Wide filling inlet for easy and safe pouring of solution into the unit.
Double service valve prevents refrigerant leakage for easy maintenance.
Removable gridded vent for easy maintenance of condenser.
Built-in casters for easy transport and installation.
RS-232 interface for external control and data collection.
Safety
Self-diagnostic function identifying errors.
Complete safety protection system with warning alarms.
- Low fluid level and dry-running protection; when triggered shows an error symbol on the display and an audible buzzer sound.
- Over-temperature protection; If the equipment operates at over maximum temperature due to external environment, user can simply identify the error with a visual signal or an audible buzzer sound.
- Over-current circuit breaker.
Eco-friendly R-404A / R-507 refrigerant use for environmental protection.
Splash-proof keypad.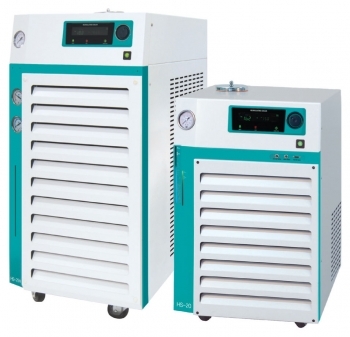 Tags
Useful Links
Machine Revisions
Recirculating Coolers (Advanced Low Temp.)
Available at
Discuss this Machine on forum.fablabs.io