Vulcan
NEY A-550 Vulcan Analog Benchtop Furnace
The Vulcan Model A-550 (200-240V 50/60Hz) has a single set point analog controller. User selectable temperature ramp rate is not available in this model making it a more economical option when rate of temperature climb is not a concern. The Vulcan A-550 like all Vulcan benchtop furnaces have a maximum temperature of 1000 Celsius or 2012 Fahrenheit. It comes with a 2 year limited warranty.
The Vulcan A-550 features High Performance Hybrid Muffle Technology exclusive to Vulcan benchtop furnaces for faster heating and cooling than full firebrick furnaces. It is constructed with a heavy gauge steel cabinet finished with a durable baked enamel coating. The vertical lift door directs heat away from the operator and is standard for safety and space conservation.
Vulcan benchtop furnaces are available in three standard muffle sizes and each can be purchased with one of three different controllers. They are also available in various combinations of US and European power supplies.
Volume (Cu. In.): 550
Chamber (W x H x D) mm: 230 x 180 x 230
Exterior (W x H x D) mm: 400 x 410 x 430
Power: 1300W (Max. <2200W)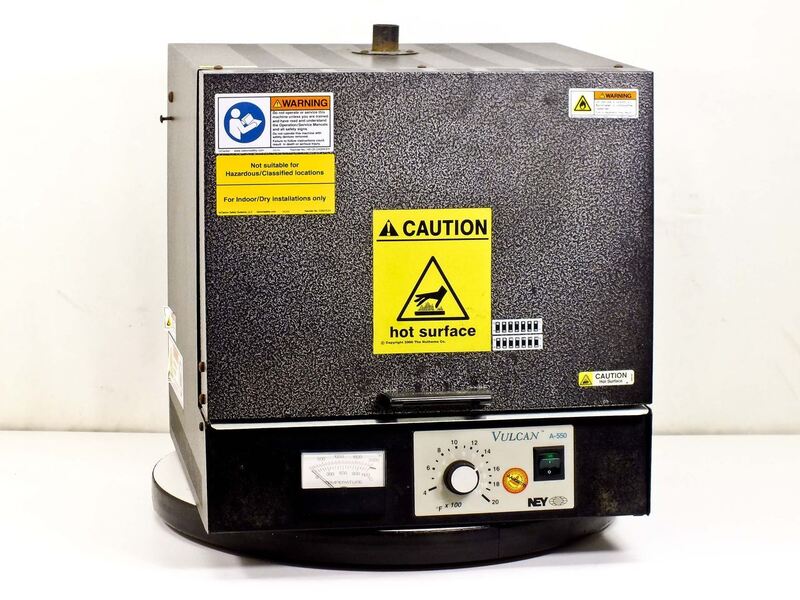 Machine Revisions
NEY A-550 Vulcan Analog Benchtop Furnace
Available at
Discuss this Machine on forum.fablabs.io