Other Machine Co
Low Temp. Incubator (2/4-chamber)
Efficient lab space use with multi-chamber incubator
Designed to offer an ideal and cost-effective solution for laboratories with limited space and budget.
- Two or four 150L chambers merged into a single unit.
Optimum model selection between two and four chamber unit according to application demand.
Suitable for conducting each different experiment at once.
- Independent temperature and timer control of each chamber using microprocessor PID.
Performance
Temperature range from 0℃to 60℃.
- Silent cooling system reduces water evaporation within the chamber.
Microprocessor PID control.
Temperature calibration.
Automatic tuning.
Adjustable 3-step fan speed with defrosting time and period control.
Convenience
Intuitive control panel with bright LED display. (0.1℃resolution)
Dual wait on/off timer modes. (1 min. to 99 hr. 59 min.)
Convenient preset function for 3 most commonly used temperature settings.
Up to 9 temperature steps and maximum 200 cycles of repetition programmable for each profile.
Convenient sample monitoring without affecting chamber temperature via the inner tempered-glass door.
Rounded inner chamber corners for easy cleaning and optimal airflow.
Built-in casters for easy transport and installation.
Safety
Automatic run after power interruption.
Keypad lock function prevents accidental changes during operation.
Over-temperature and over-current protection.
Audible and visible open door alarms.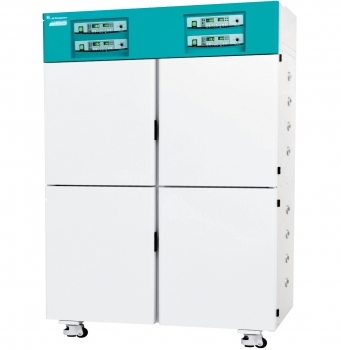 Tags
Useful Links
Machine Revisions
Low Temp. Incubator (2/4-chamber)
Available at
Discuss this Machine on forum.fablabs.io