Other Machine Co
Filtering Storage Cabinets
BS 7989 2001
Filtering capacity of our cabinet is tested by BS 7989, which describes specifications for the recirculatory filtration fume cupboards.
Cost-effective filtering system
Energy efficient and space saving filtering system.
Flexible installation of the cabinet is possible and cost-intensive exhaust air ducts are no longer necessary.
Air circulation inside the cabinet prevents heating and cooling loss due to the exhaust air, which causes high energy consumption.
Customized filter configuration.
ISO class 4 (US class 10) HEPA filter for optimal protection against cross-contamination. (optional)
0.3 μm and larger particulates are removed with 99.99% efficiency, leak-tight HEPA filter which satisfying class 10.
(US Federal Standard 209E) (average life span of HEPA filter: 3 years– it depends on the test room conditions) (optional)
High-quality polyester fiber pre-filter (with minimal pressure loss and 85% arrestant on the A.F.I. test) for trapping larger particles and increasing the life of the main HEPA filter.
Activated Carbon Filters; VOC / MA / MB type. (optional)
Convenient filter saturation check and easy filter replacement by an intelligent front cover design.
Multi-functional operation
User-friendly functions.
- Auto run on/off; In case of power failure, the unit starts automatically when the unit gets the power back.
- Set each function's value to best suit the users.
Safety warning alarms with LED indicators.
- High temp. alarm with automatic fan stop.
- Fan fail alarm for abnormal fan stop.
- Door open alarm to protect users and clean environment.
Economical and ecofriendly sleep mode.
- You can set the operating time from 8am to 6pm if your official working hour is from 9am to 6pm. It saves 60% of energy consumption and extends the life span of the fan and filter.
VOC level indication.
- Clear and symbolic VOC level bar indicates VOC measurement of the inner cabinet.
- Real time detecting and displaying are available with VOC sensor inside the cabinet.
Powerful air purification.
- Simply push turbo fan button before opening the door to activate fan at the maximum speed level for protecting users from any remain hazardous gas inside.
- This turbo fan function can also be interlocked with door opening.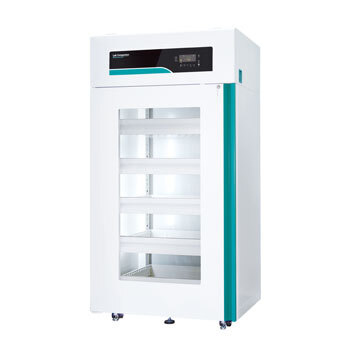 Tags
Useful Links
Machine Revisions
Filtering Storage Cabinets
Available at
Discuss this Machine on forum.fablabs.io