DFKit
DF-Print
3D-printer with extrusion method, made with the kinematic H-bot scheme. The printer is equipped with a heated platform and has a capacity of 600 W which makes it possible to print with ABS plastic and nylon.
The printhead is made on a Direct system with feed mechanism located directly on a machine portal. British hot-end E3D v6 which has already proven its reliability and performed printing at up to 300°C is used for plastic melting. The printhead is equipped with a turbo cooler for blowing out the print zone which is necessary to achieve high accuracy of printed details.
Technical specifications
Specification VALUE, VALUE RANGE
Vertical resolution, mm Up to 0.05
Printing technology FDM
Operational field (XxYxZ), mm 300х300х270
Supported materials ABS,PLA, Flex, Neylon
Control interface USB, FlashCard
The amount of printheads 1
Platform Heated till 150°C, need for a 5 minutes warm-up
Highest extruder temperature 280°С
Material used Plastic strand 1.75 mm in diametre
Highest power consumption (during platform warm-up) 800 W
Working power consumption (during printing) 300 W
Minimum system requirements Windows, Linux
Methodological materials In the kit
Additional qualities:
● Protective cap. Made from metal and tempered glass. The doors open from both sides, lock with keys. On the cap there are folding handles for comfortable installation and removal.
● Pedestal for machine placement, documentation storing, equipment, tools. It is equipped with heavy-duty rollers, parking legs, shelves are installed inside. Locks with keys.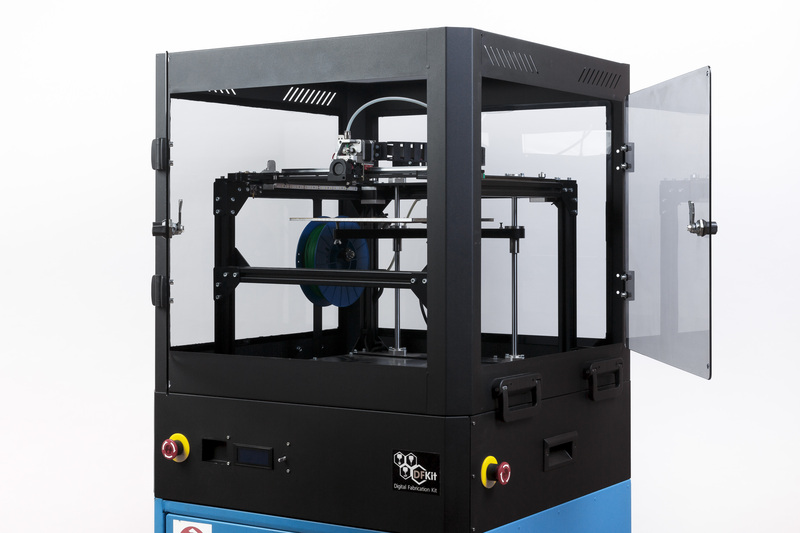 Tags
Useful Links
Machine Revisions
DF-Print
Available at
Discuss this Machine on forum.fablabs.io