Other Machine Co
Acid / Corrosive Cabinets
Convenient and safe ventilation system.
Built-in ventilation hole.
- Ventilation hole on the top and exhaust holes at the back prevent the accumulation of explosive gas.
Exhaust system connection.
- Cabinet can be connected to an in-house laboratory exhaust system to efficiently exhaust the vapor inside of the cabinet. (except for SC-C0706D1)
Safe storage of corrosive substances.
Corrosion-resistant interior material.
- Phenol resin coated panel is suitable for long-term storage of acid / base substance.
Robust metal structure.
- Sturdy steel frame prevents deformation.
- Epoxy coated surface provides excellent chemical resistance.
Space-efficient interior design.
- Internal compartment structure is beneficial for practical and safe space use by organizing the inner space efficiently according to the characteristics of the stored samples. (except for SC-C0706D1)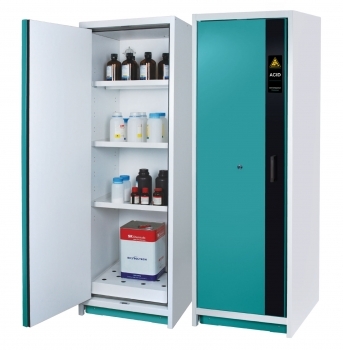 Tags
Useful Links
Machine Revisions
Acid / Corrosive Cabinets
Available at
Discuss this Machine on forum.fablabs.io