CORiTEC
350i 5-Axis Milling Machine
5-axis, simultaneous machining
Base structure made of steel/aluminum
Integrated wet and dry processing
Zero point (clamping) system (optional for CORiTEC 350i)
processing of all important materials used in the dental industry, including metalworking
Axis tilt angle up to 30°
20-fold tool changer
HF spindle with up to 60,000 rpm
Integrated control PC with touch screen
Servomotors on all axes
Chip protection of the tool changer
Frontal machining of the workpiece is possible (B-axis in 90 degree position)
​
The modern and optimized machine kinematics, with high free angles of the 5 axes of over 30°, allows milling and grinding as wet and dry processes and with high quality. This makes the system an all-rounder, ideal for demanding labs, to produce all typical applications in your own lab, with high quality, using CAD/CAM technology.
The CORiTEC 350i, with it's optional zero point system facilitates the quick change of blanks by switching out the entire blank depot with the push of a button. The CORiTEC 350i Loader is equipped with a fully automated 12-fold material changer.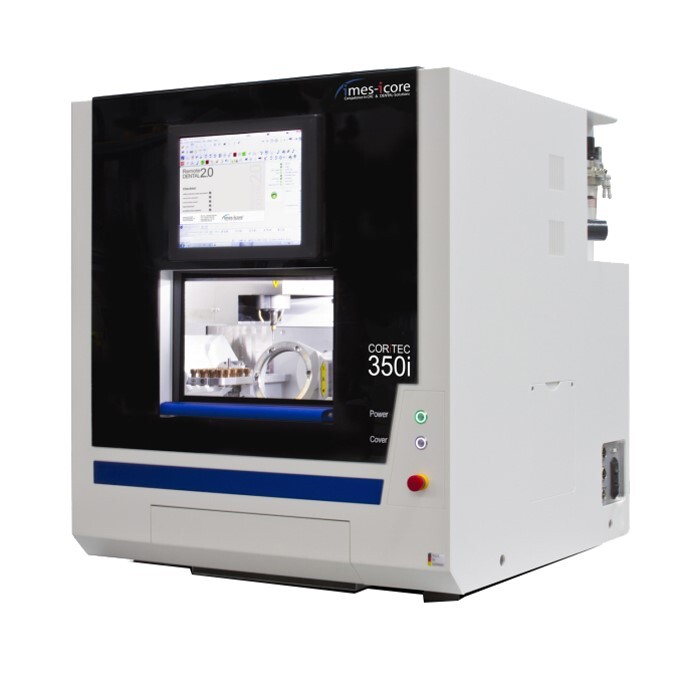 Useful Links
Machine Revisions
350i 5-Axis Milling Machine
Available at
Discuss this Machine on forum.fablabs.io