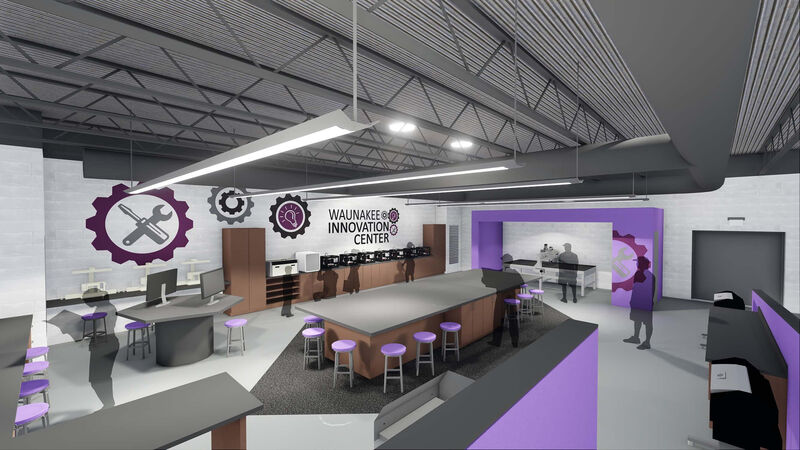 PLANNED
Waunakee High School Innovation Center Fab Lab
https://fablabs.io/labs/waunakeehighschoolinnovationcenterfablab
301 Community Dr, Waunakee, 53597, United States of America
The Waunakee Innovation Center is a partnership between the Waunakee Community School District and the Waunakee Area Education Foundation. This will be a resource space that the school and community will be able to use to explore innovation, ingenuity, and creativity through technology. It will be a "YES" space where people can explore without fear in a safe setting. The center will also explore integration of curricular areas through collaborative projects and teamwork. With a planned opening date of early October 2016, the Innovation Center hopes to partner with the Massachusetts Institute of Technology to become a certified Fab Lab. This partnership will allow the students of the Waunakee Community School District to become part of the global creative network by sharing their designs and knowledge with other Fab Lab's across the world.
Science, Technology, Engineering, Art and Math (also known as STEAM) education represents a large portion of our students and the new frontier of exploration. According to the US Department of Education, STEAM career growth is projected to rise 14% by 2020. The Innovation Center will offer a unique space where STEAM education will be able to be experienced by students and community. Our students will be able to grow their STEAM skills through courses offered in the Waunakee Community School District and then expand those skills through the Innovation Center. The space will also offer a chance for community education classes to be offered to help introduce community members to new technologies becoming more prevalent in traditional areas. After initial set up of the Innovation Center, the possibility exists that the space will be able to be open to members of the community to use for work on projects, explore hobbies and learn new skills.
With the focus of the future workforce on 21st century skills (soft-skills), the creative problem solving process will become more and more important. The Innovation Center will allow students AND community a place to test out the research and development process while allowing participants to embark on a journey from idea to physical model. This practical experience will also allow participants to hone critical skills needed in everyday life.
Links
Lab Capabilities
3D printing
CNC-Milling
Circuit production
Laser
Precision milling
Vinyl cutting
Discuss this Lab on forum.fablabs.io