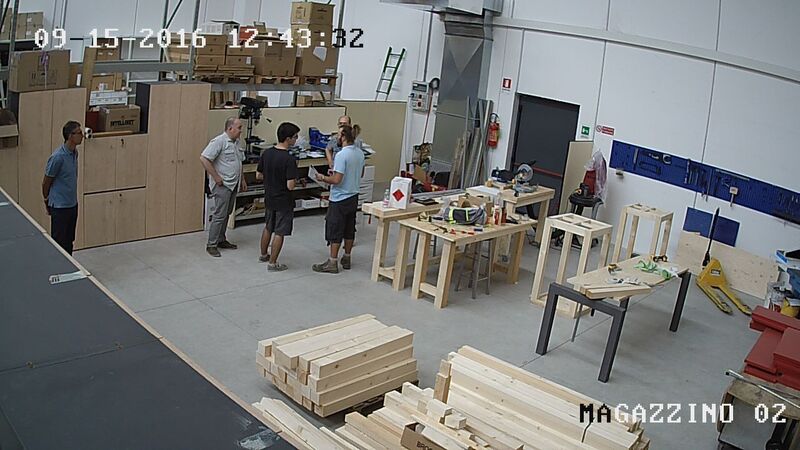 w3make.it
https://fablabs.io/labs/w3makeit
Via Fratelli Lumiere, 46/A, Fornace Zarattini, Ravenna, RA, 48124, Italy
w3make.it ( http://w3make.it ) starts in 2016 as a consortium of 15 companies, working in different fields, Enterprise ICT, Telemetry, Electronics, Printing, IoT, Agriculture, Winemaking, International trade, Technological Services, and embeds a substantial amount of expertise.
Here are some of the lab facilities:
- a classroom with 14 high-end windows and linux pcs, digitizer tablets, 3d accelerated graphic boards, and with a 60' electronic touch screen board, broadband internet connectivity
- large main lab with 7 different functional areas, equipped with 4 windows/linux pcs and a linux server (with firewall, webservices, storage, cloud based backup):
1.Digital design, modeling, cam, prototyping
Target: starting from scratch or from traditional processes, using computer tools, design and model objects and parts, possibly to be prototyped, debugged and built via computer controlled machines.
Tools: McNeel, Autodesk, Solidworks, Trimble, Adobe Software, Blender, Gimp, Inkscape, Libreoffice, Ghostscript, as well as many other open source software. Sharebot 3dPrinters.
Lasercutter/engraver AOL 6040 100W
2.MetalWorking & mechanics
Target: using traditional tools and machines, as well as cnc machines, allow creation of working prototypes, to be cyclically further improved via digital technologies.
Tools: Cam software, High-Z s-1000 cnc machine, with lathe and tangential cutting options. Esab MAG c171 welding machine, vertical drill, vise, and many workbench tools.
3.WoodWorking
Target: using traditional tools and machines, as well as cnc machines, allow creation of crafts to be further improved using digital technologies. Several traditional manual tools are available, so to allow artistic and high quality craft creations, allowing originals and digital copies to be created and promoted on ecommerce channels, to extend the reach of local artists and craftsmen.
Tools: Cam software, High-Z s-1000 cnc machine, with lathe and tangential cutting options. Fervi 0758 Wood Lathe with copier option. Power tools and traditional hand tools (rather complete set of woodworking planes from Veritas, chisels, and finishing tools).
4.Smartwear
Target: develop wearables electronics, for the following targets: professionals, fitness, smartlabels, and performers. Computer controlled embroidery, also with electroconductive thread.
Tools: Brother Innov-is 10 sewing machine, Brother Innov-is nv800e embroidery machine, Secabo Lapos C60V cutting plotter, Arduino Lilipad, Adafruit flora, layout and cut tools, rfid tags, digital microscope.
5.Electronics, Robotics, Automation
Target: develop custom circuits and devices, for internet of things and automation.
Tools: Rigol Scope, multimeter, soldering stations, signal generator, power supplies, Arduino boards, Raspberry boards, network and wireless shields, discrete components, sensors (light, ir, temp, humidity, proximity, pir, gas, ultrasound, gyros, accelerometers, etc), servos, motor control shields, power level converters, rechargeable batteries, linear actuators, philips hue lamps, ledstripes and controller, DMX controller, DMX equipment, teltonika telemetry boxes.
6.Software & Interactions
Target: software development of showcasing tools, digital catalogs, mobile, internet of things, event detection and reaction, feature detection and augmented reality. Advanced user interfaces.
Tools: windows and linux toolchains for software development in several environments: python, perl, c#, vba, php, node/angular, mit app-inventor, scratch, arduino ide, processing, java, android dev kit, lua, raspberry dev, android smartphones and tablets.
7.Multimedia & Arts
Target: Pictures and Video Making, audio/video production and documentation, copywriting, storytelling, digital heritage of traditional craftmanship. Generative arts.
Tools: Canon EOS 1300D Reflex camera, Gopro Hero action cam, tripods, microphones, lights, lightbox, photoediting and videoediting software on pc and tablet, 2 Sonos play:5 audio boxes, audio production and editing software. Full-HD digital projector Optoma EH-501.
Links
Lab Capabilities
3D printing
CNC-Milling
Circuit production
Laser
Precision milling
Vinyl cutting
Machines
Discuss this Lab on forum.fablabs.io