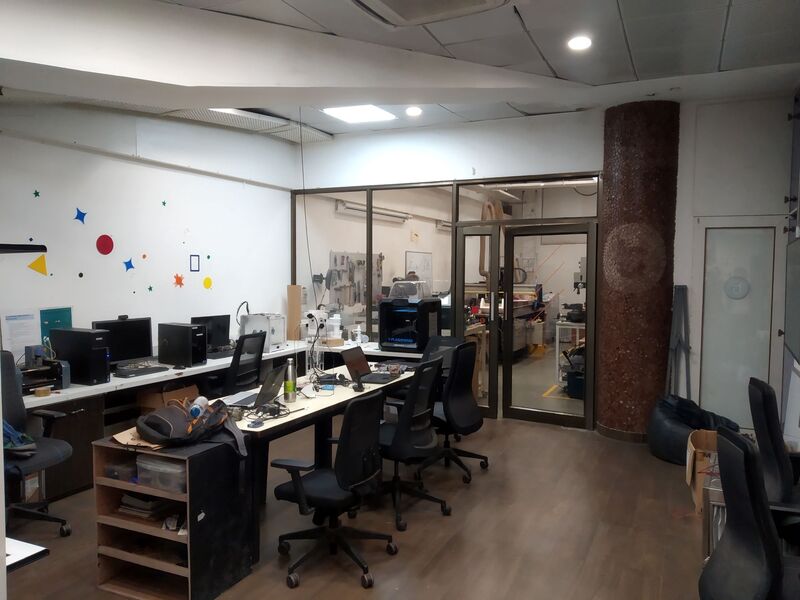 Tata Centre for Technology and Design (TCTD)
https://fablabs.io/labs/tctd
Tata Centre for Technology and Design,Machine Lab, Ground floor, Academic Section, Lecture Hall Complex 2(L2), IIT Powai, Near KreSit building. Mumbai 400076., Mumbai, Maharashtra, 400076, India
Response to Covid-19 by TCTD.
We come up with two solutions in response to the emergency of the Covid-19 spread.
1. reBreather,
2. CoviDialysis
1. reBreather- ( Major Involvement of Digital Fabrication for quick prototype to come up with )
We have built a prototype breathing device called reBreather, which can minimize the wastage of oxygen when a patient is put on assisted breathing with supplemental oxygen via O2 cylinders or centralized O2 supply in hospitals. Our reBreather prototype is a semi-closed circular breathing system that would allow patients to breathe in unused exhaled oxygen which has been filtered to remove CO2. The hardware design is available in the public domain under the Creative Commons 4.0 license (CC BY-SA 4.0) so that others can replicate the design.
You can find details and the repository from the link below.
https://github.com/TCTD-IIT-Bombay/reBreather
2. CoviDialysis
The CoviDialysis project is a TCTD solution that has been developed at the beginning of the pandemic and is in full use as a service, in a live setting.
At the beginning of the Covid pandemic in Mumbai, we lost Chronic Kidney Disease (CKD) patients on hemodialysis because their Covid status was either confirmed positive or suspect and consequently their regular dialysis clinics turned them away. Towards addressing what was a surging crisis, the Municipal Commissioner approached a leading group of local nephrologists to handle the coordination of all Covid suspect and positive patients on an emergency basis; he had ongoing R&D interactions with a couple of faculty members at IIT Bombay and he turned to them for help.
A patient and facility management platform was created at https:// covidialysis.in to deal with this challenge as follows: when clinics could not handle patients (as patient covid status changed, or because of limited capacity), patient details were input into this system by each dialysis center in-charge, using a laptop or a phone. A central clinical coordinator saw those assignment requests on a dashboard and proceeded to identify an alternate dialysis center capable of handling covid positive or suspect patients. All dialysis clinics in the city (~200) were mandated by the Municipal Commissioner to report their patient handling abilities to this portal.
At this time, this service has been operational for several months and nearly 2000 covid suspect/positive hemodialysis patients have been entered into the system for management. Approximately half of these patients have required urgent reassignment by the central coordinator. CKD has turned out to be the Covid-19 comorbidity with the highest fatality rate (~25%) associated with it. MCGM calls this dialysis patient management effort Project Victory.
Lab Work Overview:
The Tata Centre acts as a virtual centre for teaching and research that draws faculty members, graduate, masters, Ph.D., and postdoc students from various academic units across IIT Bombay. The centre focuses on challenges in the areas of Agriculture and Food, Education, Energy, Healthcare, Housing, Water, and Waste Management. It undertakes research projects in these areas by leveraging the expertise of the research community at IIT Bombay Tata Centre for Technology and Design IIT Bombay.
Links
Lab Capabilities
3D printing
CNC-Milling
Circuit production
Laser
Precision milling
Vinyl cutting
Machines
Discuss this Lab on forum.fablabs.io