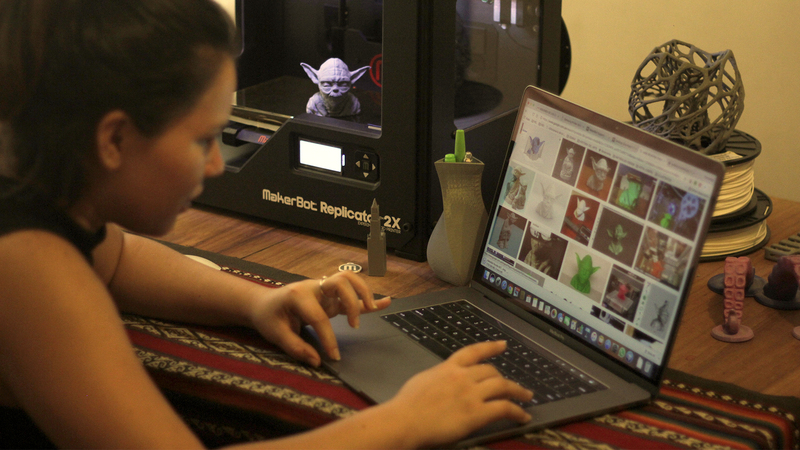 Studio Zinkin
https://fablabs.io/labs/studiozinkin
Jr. Lineas de Nazca 270, Lima Perú, Jr. Lineas de Nazca 270, Lima Perú, La Molina, Peru, 15024, Peru
We are #Zinkers
Studio Zinkin SAC is a Peruvian company formed
under legal terms, on October 17 of
2017
At Zinkin we develop projects of
interior design and manufacture molds for accessories
decorative
Fabiola Escajadillo, CEO & Founder, started with
the Zinkin entrepreneurship with the vision of power
develop projects with the help of manufacturing
digital, how 3D printing.
Our mission is to share our KnowHow,
experiences and provide our quality services
internationally competitive, spreading
issues such as recycling and care
environmental.
# 2018
In the process of manufacturing printed molds
in 3D, with materials like the PLA (polymer
obtained from renewable resources, with capacity
to biodegrade, which confers a great advantage
from the ecological point of view),
we discovered that we could design our
own decorative complements but with the
desire to innovate in the final material. We contacted
with the company Cementos Inka, which has
an eco-environmental core producing Cement
ECO (60% less CO2 emissions in the medium
ambient) . They developed our
formula called ZK, subject to the finishes that
we required to develop our products,
complying with environmental regulations.
#STARPOT
With our eco product line, we want
disseminate our design processes and the use of
avant-garde materials of ecological line.
We offer:
Custom design of decorative products,
perfect for all kinds of events.
Processes:
* 3D Design, 3D Printing, Molds.
* Final product in Cement ZK.
The development and manufacture of our products
They are endorsed by Cementos Inka experts.
Links
Lab Capabilities
Discuss this Lab on forum.fablabs.io