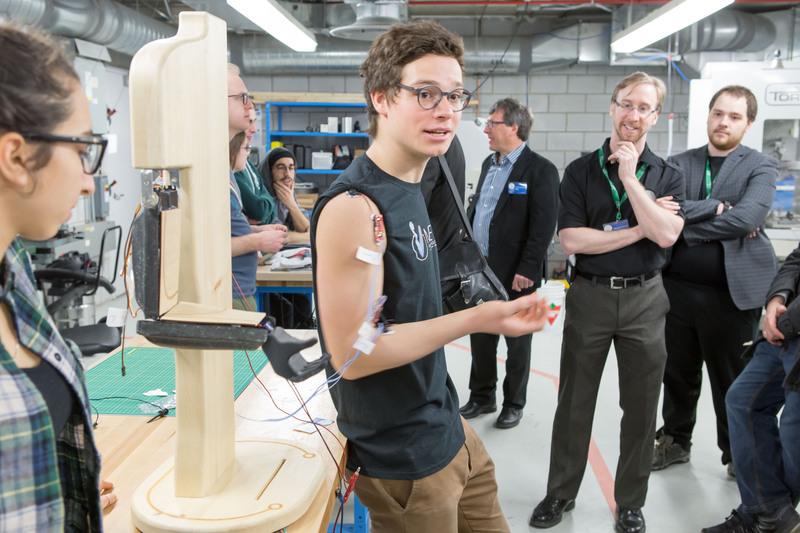 PolyFab Normand Brais
https://fablabs.io/labs/polyfab
Pavillons Pierre-Lassonde et Claudette McKay-Lassonde, Montreal, H3T 1J4, Canada
** English below**
Le PolyFab reprend cet esprit : Fabriquer n'importe quoi, ou presque. Pour un nouveau projet qui demande de réaliser un prototype, on peut trouver des documents ou des vidéos sur chaque sujet technique et chaque procédé de fabrication. Encore faut-il savoir que ce procédé existe, qu'il est avantageux pour notre besoin, et parler à quelqu'un qui l'a expérimenté. C'est là où PolyFab se démarque. Non seulement, PolyFab donnent accès à des machines, mais PolyFab constitue avant tout une communauté d'intérêts.
Pourquoi une communauté d'intérêt? En fait, PolyFab évolue dans un esprit communautaire où les membres s'inscrivent de manière volontaire, par intérêt. Il s'agit d'un endroit où les passionnées de projets, de toutes disciplines et expertises se rencontrent et échangent. Un endroit neutre qui rassemble tous les génies, un lieu qui favorise l'approche par projets, l'apprentissage par les pairs, l'apprentissage actif.
C'est bien beau tout ça, mais comment ça fonctionne ? En fait, les ingrédients sont des machines très flexibles, des vidéos sur leur utilisation, un parcours simple pour valider ses connaissances, et finalement un lieu où les membres se rassemblent, échangent et apprennent les uns des autres.
Le PolyFab a ouvert ses portes en septembre 2016, et a déjà accueilli près de 300 membres dans ses 1000 pieds carré. PolyFab compte sur une équipe d'une douzaine d'étudiants-animateur, mais PolyFab doit surtout son succès à son équipe de bénévoles passionnés qui se rencontrent toutes les semaines pour discuter des enjeux et des projets à venir. Le PolyFab, c'est un espace de création où il est possible de libérer sa créativité grâce aux possibilités de la fabrication numérique et additive.
//
PolyFab is based on the makers' desire to be able to make (almost) anything. If you want to build a prototype for a new project, it is possible to find all the documentation, the technical specification and processes to follow on the web. However, it is hard to look for a process that you might not know existed nor that it might be suited to your needs, or to find someone who has used it before to discuss with. This is where the PolyFab stands out. Nonetheless, PolyFab grants its members access to a large variety of equipment, but PolyFab as its roots in a community of interest.
Why? Because PolyFab evolves with its members forming a community that is driven by a common interest. This place gathers project enthusiasts from different backgrounds, and constitutes a middle ground that brings together various specialities.
Sounds great, but how does it work? The main ingredients are a wide variety of equipment, tutorial videos that explain how to properly use them, a simple path to validate how to use of the equipment and, finally, a place where people gather, discuss and learn from each other.
PolyFab is operating since September 2016 and already counts 300 members. The PolyFab staff is composed of 12 employees from the student community of the Polytechnique Montréal, but mainly owes its success to its group of passionate volunteers who meet to discuss several issues and projects. PolyFab is a creative space where it is possible to release one's creativity by the use of digital fabrication
Links
Lab Capabilities
Stampa 3D
Fresatura CNC
Produzione di circuiti
Incisione e taglio laser
Fresatura di precisione
Taglio vinile
Machines
Discuss this Lab on forum.fablabs.io