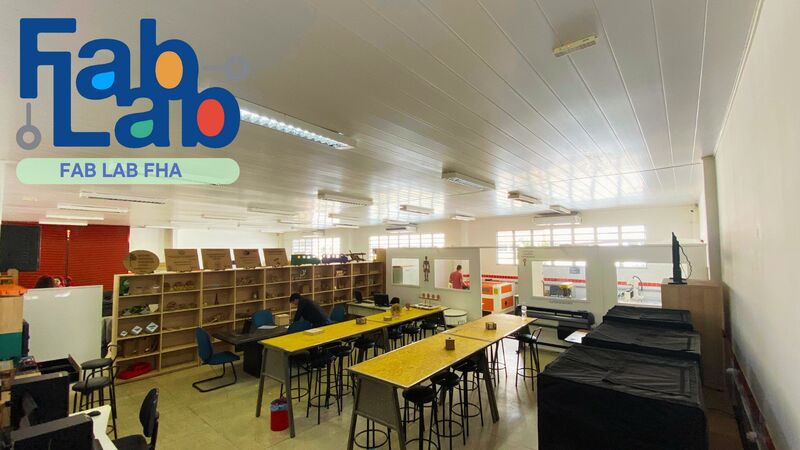 FablabFHA
https://fablabs.io/labs/fhafablab
Avenida São Paulo 3996, Ibirité, Minas Gerais, 32415-250, Brazil
Fablab Escola FHA is located at Fundação Helena Antipoff - an institution with more than 3,500 students ranging from primary school to high school education and technician professional courses. Our fablab is designed as an educational one. It is a specialized facility within a school that provides students with access to digital fabrication tools and technologies. It is equipped with various tools and machines that allow students to design, prototype, and manufacture physical objects. These tools include 3D printers, laser cutters, CNC machines, vinyl cutters, electronics prototyping equipment, and a range of hand tools.
The primary goal of our school fablab is to promote hands-on learning, creativity, and problem-solving skills among students. It provides an environment where students can engage in project-based learning and apply concepts from various disciplines, such as science, technology, engineering, arts, and mathematics (STEAM). By using the fablab's tools and technologies, students can turn their ideas into tangible objects, fostering innovation and entrepreneurship.
It also aims to foster collaboration and teamwork among students by encouraging a multidisciplinary approach, where students from different subjects and grade levels can collaborate on projects. This collaborative environment promotes communication, critical thinking, and the sharing of knowledge and skills.
Furthermore, our school fablab offers guidance and mentorship from teachers or experts in relevant fields. They may provide workshops, training sessions, and project-based curriculum to help students develop their technical skills and understand the principles of digital fabrication and gain practical experience in design and manufacturing.
Links
Lab Capabilities
3D printing
CNC-Milling
Circuit production
Laser
Vinyl cutting