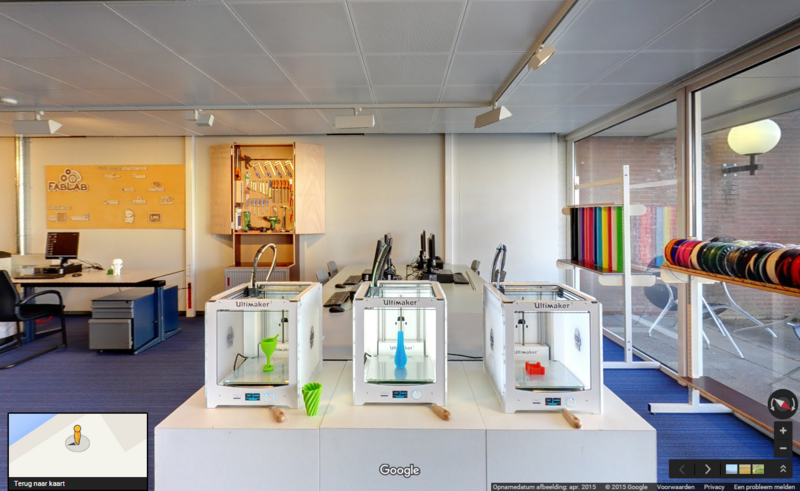 FabLab Zeeland
https://fablabs.io/labs/fablabzeeland
Kousteensedijk 7, Middelburg, Zeeland, 4331JE, Netherlands
Het FabLab is een leer- werkplaats waar iedereen spelenderwijs kennis kan maken met alle aspecten van digitale fabricage. In FabLab Zeeland kun je met behulp van moderne computergestuurde 'maakmachines' zoals 3D-printers, lasersnijder, vinylsnijder en ontwerpsoftware zelf dingen (leren) maken die voorheen alleen door megaconcerns konden worden gerealiseerd.
Deze informele leer- werkplaats biedt iedereen de kans en ruimte om samen op lokaal, nationaal en internationaal niveau aan nieuwe ideeën, experimenten en uitvindingen te werken. Opgedane kennis en vaardigheden worden gedeeld met iedereen. Zo wordt de afstand van "idee naar product" kleiner. Loop je al een tijd met een idee rond maar je weet niet hoe je deze kunt vormgeven? Dan ben je in FabLab Zeeland aan het juiste adres.
De werkwijze is gebaseerd op het FabLab concept, zoals dat bedacht is door Neil Gershenfeld, directeur van het Centre of Bits and ATOMs (CBA) aan het Massachusetts Institute of Technology (MIT). Wereldwijd zijn er meer dan 360 FabLabs operationeel die via een uniek internationaal netwerk met elkaar zijn verbonden. In Nederland zijn er ruim 38 FabLabs.
Kijk voor meer informatie over fablabs op de website van stichting FabLab Benelux: www.fablab.nl
Waar vind je ons?
FabLab Zeeland is gevestigd in ons gebouw aan de Kousteensedijk in Middelburg. Naast het exploiteren van een vast lab binnen de muren van de ZB wordt, in samenwerking met Frysklab (het mobiele FabLab van Friesland), de onderwijsbus Columbus ingericht met een tweetal 3D printers. De mediacoaches van de Columbus brengen het 'maakonderwijs' onder de aandacht bij een aantal pilotscholen binnen het basisonderwijs. Een ingerichte FabLabbus kan op termijn een belangrijke rol gaan vervullen in de regio.
Samen met HZ University of Applied Sciences, Dok 41, Scalda, Stichting ZigZag, Provincie Zeeland en Protospace Utrecht wordt onderzocht of er op termijn een groter FabLab op de kenniswerf in Vlissingen gevestigd kan worden.
Meer weten?
Wil je meer informatie over FabLab Zeeland? Of wil je partner worden? Neem contact met ons op!
Tel: 0118-654217
E-mail: info@fablabzeeland.com
Links
Lab Capabilities
3D-Drucken
Laserschneiden/-gravieren
Schneideplotten
Machines
Discuss this Lab on forum.fablabs.io