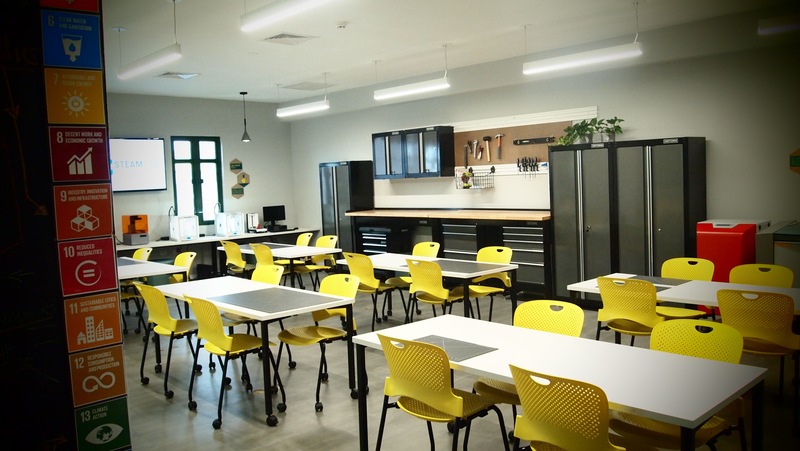 STEAM Fab Lab TASIS Dorado
https://fablabs.io/labs/fablabtasisdorado
The TASIS School in Dorado , 11 Carr. 693, Urb. Sabanera, Dorado, PR, 00646, Puerto Rico
Located inside The TASIS School in Dorado, our Fab Lab offers students the opportunity to invent, create, solve problems, understand the engineering design process, and turn their ideas into reality. The TASIS School in Dorado is a private, coeducational day school which offers Pre-Pre Kinder through 12th grade education to around 800 students. The school focuses on the development of community as well as individual growth, challenging each student to achieve his or her full potential within a supportive environment.
Fab Lab TASIS Dorado is a 1,200 square foot space in which students can gain experience with the latest in technology, while developing skills in research, design, and creative problem-solving. Our space will provide the means and support for people to design, prototype, and test their ideas by using both high-tech technology and low-tech tools. The aim of our program is to transform education and expose members of the local community and students of every level to the experience of bringing their own ideas to life. Equipment provided in the Fab Lab includes a laser cutter, desktop CNC milling machines, 3D scanners, and two different types of 3d printers. We also have a lounge area for idea development, brainstorming and consulting. The equipment and space at Fab Lab TASIS Dorado is open for student, teacher, classroom and community use.
Current courses developed inside the Fab Lab include STEAM for middle school and a Research and Engineering course for high school. In both courses students experience the engineering design process to create designs of their own, solving specific problems discussed in class.Students will have the hands-on opportunity to identify real problems that they want to tackle and develop their own innovative solutions. The Fab Lab will also act as a compliment to projects developed inside core academic courses offered in school. The management team of the Fab Lab coordinates and is in constant communication with teachers and members of the school at every level, aiming for new ways of creating innovative curriculum. In addition to providing the space and equipment, the Fab Lab is open for users (even those with little or no technical expertise) to receive assistance and guidance, enabling them to turn their projects from concepts to prototypes to final designs.

Links
Lab Capabilities
Impresión 3D
Fresado CNC
Producción de circuitos
Corte y grabado laser
Cortadora de vinilo
Machines
Discuss this Lab on forum.fablabs.io