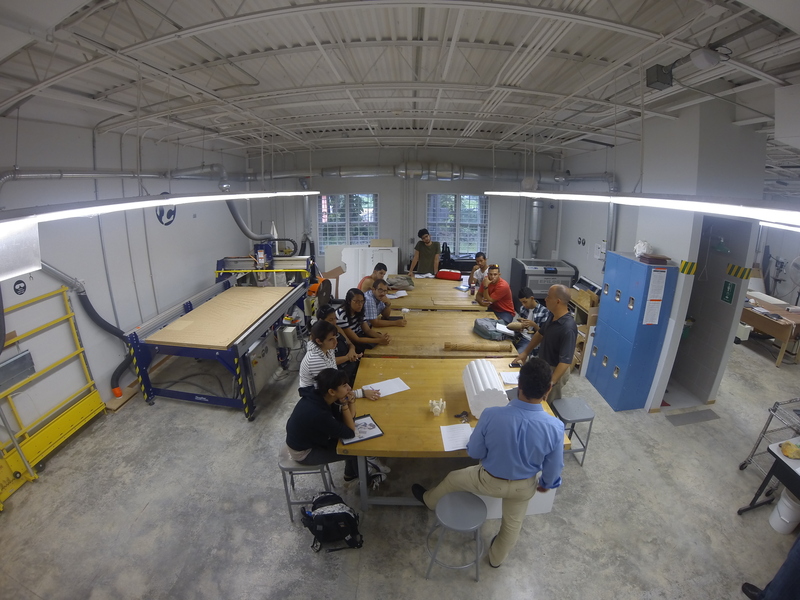 FabLab Puerto Rico
https://fablabs.io/labs/fablabpuertorico
Carretera 189, KM 3.3, Gurabo, PR, 00778, Puerto Rico
Puerto Rico's creative and tinkering space.
FabLab Puerto Rico
as established on 2011 and it's composed of two main fabrication laboratories located at the cities of Barceloneta and Gurabo, Puerto Rico. The Labs are affiliated to the International School of Design and Architecture of the University of Turabo and the International Design Center in Puerto Rico. The distance between each lab is fairly close and accessible to any member or user. The FabLab Puerto Rico has four basic functions;
1. School's formal lab and more -- FabLab Puerto Rico is the International School of Design and Architecture Lab. We work with our design students in Fashion, Industrial, Interior, Graphic Design and Architecture. We collaborate with artists and designers from all communities in Puerto Rico to promote experimentation and innovation.
2. Open FabLab -- We have an active collaborative program with educational and community-based projects and institutions working with them at no charge. We are working with public museums, preservation institutions; community based initiatives, schools and cultural preservation projects. It's a constant initiative that extends the use of the lab facility as we use the school students, professors and volunteers. A short proposal is required.
3. Prototyping and R&D for the IDC -- The International Design Center promotes design development and innovation for all local industries. We offer a variety of design services like web page and product development, graphic design, packaging and prototyping. The IDC project was created at the University of Turabo with public and private funds. FabLab Puerto Rico is the tool that takes care of the fabrication and R&D services provided for small and medium business. We work with inventors, designers and commercial institutions. This commercial side of the operation of the Lab hires students and professors to promote hands on experiences with the reality of our industry.
4. Education -- Open to any student from any educational institutions in Puerto Rico. Fee based $30.00/ hour (on digital equipment only). Must be an academic project. FabLab PR organizes a series of free seminars for the general public on digital fabrication and traditional fabrication techniques.
FabLab Puerto Rico was conceived to be a formal FabLab, and has available the equipment and the commitment to collaborate with community-based initiatives as well as design and creative industries.
The Lab is offering free access for collaborations in an effort to have open access to the general public.
The Caribbean is a new frontier and we want to share the FabLab network and its power to share and transform to the rest of our neighbors. We are makers, love to help, collaborate, experiment, teach and learn.
Welcome to FabLab Puerto Rico
Team
FabLab Director
Idalia N. Santiago
Lab Technician:
Rolando Carrasquillo
Links
Lab Capabilities
3D printen
CNC frezen
Printplaat productie
Laser Snijden/Graveren
Precisie frezen
Vinyl snijplotter
Machines
Discuss this Lab on forum.fablabs.io