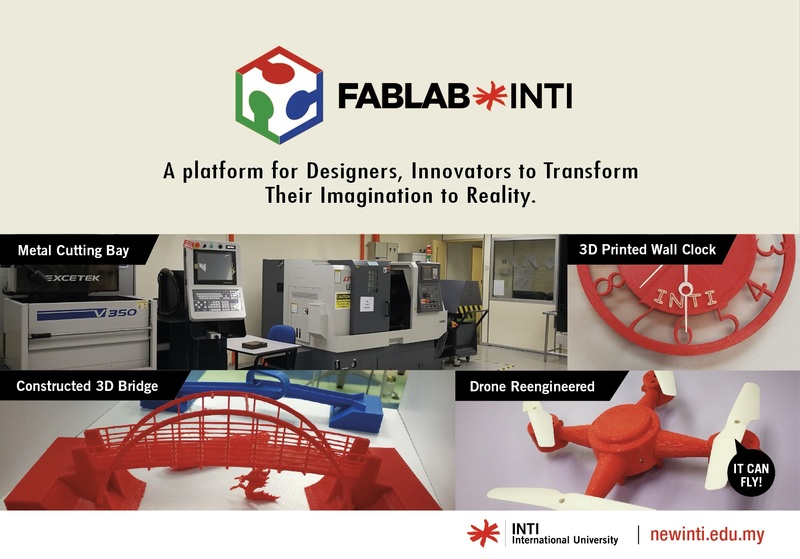 FabLab INTI
https://fablabs.io/labs/fablabinti
INTI International University, Persiaran Perdana, Nilai, Negeri Sembilan, 71800, Malaysia
FabLab INTI is a new establishment of INTI International University. The purpose of FabLab INTI is to provide a platform for designers, innovators to transform their imagination to reality. It is equipped with the state-of-the art facilities. It is the place to play, to imagine, to create and to invent and to inspire entrepreneurship. The FabLab is managed by Fab Manager, Fab Masters and advocates.
The FabLab INTI consists of several stations such as the design station, rapid prototyping station, cutting station, soldering (electronics) station and assembly station. Major equipment includes: -
1. Leadwell Vertical Machining Centers Model: V—30i
2. Leadwell CNC Turning Center, Model: LTC-20E
3. Joemars Super Drill Machine
4. Excetek CNC Wire Cut EDM Machine. Model: V360 (Submerged)
5. Stratasys Fortus 250 Mc Rapid Prototyping Machine
6. Odyssey X2 Series 3d Printer
7. Apollo Series 3d Printer
8. Makerbot Replicator+ Desktop 3D Printer
9. Next-Engine Desktop Ultra High-Definition Pro Scan 3D Color Laser Scanner
10. Sense 2 3D Scanner
11. Graphtec Cutter Plotter CE6000-60
12. Laser Engraving Machine SIC-L1390
13. Edu Maxspeed 330 CNC Engraving Machine
Find out more about us!
Links
Lab Capabilities
3D printing
CNC-Milling
Circuit production
Laser
Precision milling
Vinyl cutting
Machines
Discuss this Lab on forum.fablabs.io