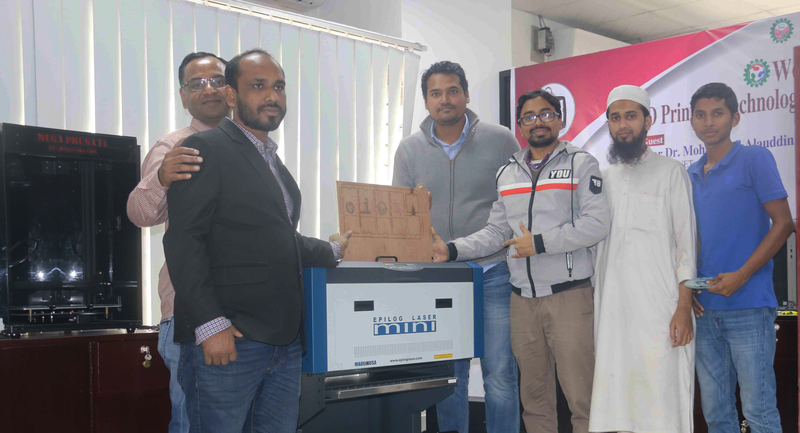 FAB LAB DUET
https://fablabs.io/labs/fablabduet
DUET 2nd Campus Road, Shaheed Sayed Nazrul Islam Academic Building, 6007, Level-6, Gazipur, Duet 2nd Campas Road, 1707, Bangladesh
There are total 8 Sub-projects are awarded from UGC, Bangladesh. FAB LAB DUET is one of them. Establishment of a digital Fab Lab to create a common platform for multi-disciplinary innovative research, organize seminar, workshops and training programs for students, faculties and communities to enrich teaching, learning and innovation capabilities of the universities, country and the world.
The Lab provides students, researchers and technology enthusiasts a platform to take up applied research activities and develop prototypes. Laboratory is equipped with latest tools and technologies required to facilitate research and prototyping activities.
Some of the facilities available are as follows:
1. 3D Printers (Ultimaker 3 Extended and Mega Prusa 14).
2. Laser Cutting and Engraving machine (Epilog Laser Mini).
3. Vinyl Cutter and Plotter ( GRAPHTEC CE6000-60).
4. Roland MDX-540S 4 axis Milling machine.
5. PCB Milling Machine.
The Lab is divided into two parts:
1. Electrical & Electronics Section
2. Mechanical section.
Electrical and mechanical section maintains an inventory of all the electrical and mechanical components required for modeling and prototyping. Bin system is used for maintain proper inventory of consumable and non consumable items.
The principal activities revolve around development of Projects, which are undertaken on behalf of the industry. Our activities also encompass training of undergraduate engineering students from rural areas or small towns or colleges who do not have full-fledged laboratories. The aim is to impart practical knowledge beyond the realms of academic books and prepare students to be useful for the industrial expectations after graduation.
Links
Lab Capabilities
3D printing
CNC-Milling
Circuit production
Laser
Vinyl cutting
Discuss this Lab on forum.fablabs.io