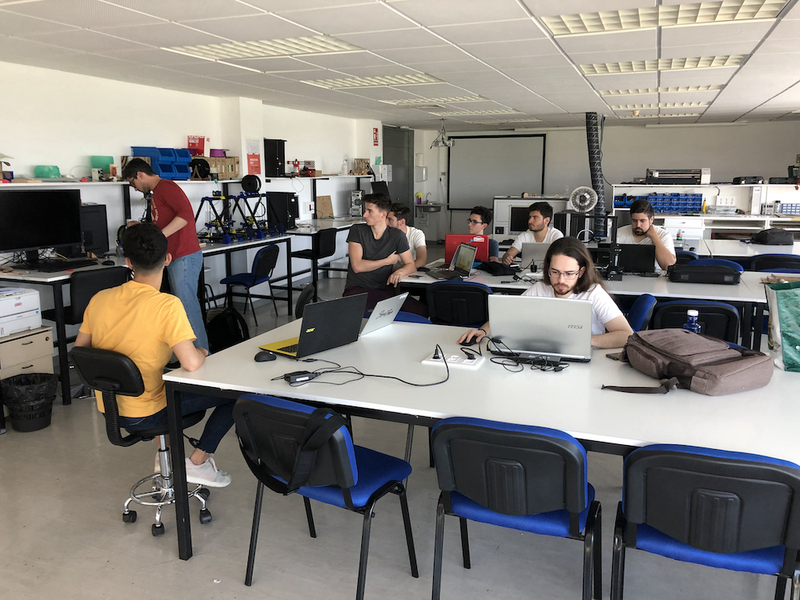 Fablab Badajoz
https://fablabs.io/labs/fablabadajoz
Escuela de Ingenierías Industriales, Badajoz, Badajoz, 06006, Spain
For a few years now, and motivated by this idea and the digital revolution that we are living, the Industrial Engineering School digital manufacturing laboratory in Badajoz allows the creation and development of projects and prototypes in the field of industrial and related engineering with mechanical, electrical, electronic and automatic projects and systems.
Here you can find a set of digital manufacturing tools such as: a laser cutting machine, a vinyl cutting machine, a small format CNC machine and another one for printed circuit boards, basic electronic equipment, 3D scanner and 3D printers. There are also a number of tools and equipment for developing electronic circuits as well as programmers for low-cost processors. Finally, there is a series of computer equipment that facilitates the work of designing the prototypes.
There are several spaces available within the school to carry out projects: The main laboratory in which there is a 3D and CNC printer area, another for assembly and machining and tables for group work with up to 24 work stations. (We also have our thinking area). Attached to this laboratory is a small warehouse and downstairs a small workshop with various traditional tools such as Drills, welding machines, sanding machines, etc.
We have organized Arduino Day, other events for makers, breakfast with science, researcher's night, science week, etc. We are collaborating with other Labs in Extremadura, like Smart Open Lab (in Caceres), Fablab Mérida, Fablab Xtrene and we are open to future collaboration with other labs all around the world.
Fablab Badajoz is an open laboratory for students, professors and people in general. If you are interested in technology, have ideas and want to carry them out, the Fablab Badajoz, at the Industrial Engineering School is your place. Come and visit us!
Links
Lab Capabilities
3D printing
CNC-Milling
Circuit production
Laser
Precision milling
Vinyl cutting
Machines