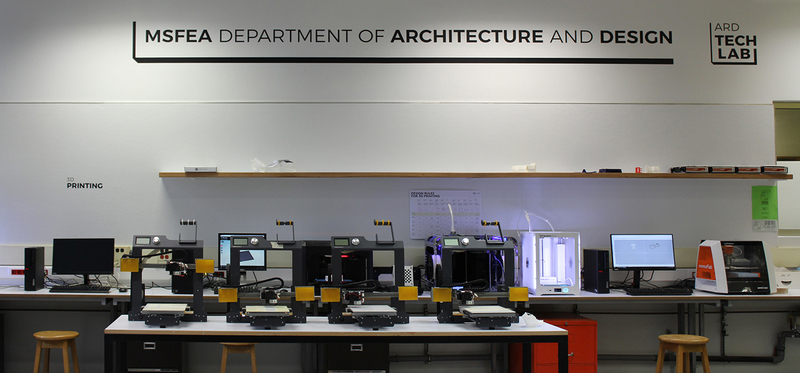 ArD TechLab
https://fablabs.io/labs/ardtechlab
American University of Beirut, Scientific Research Building (SRB) Room 111 , Beirut, P.0. Box: 11-0236, Lebanon
The ArD Techlab was founded at the Department of Architecture and Design (ArD) at the Maroun Semaan Faculty of Engineering & Architecture, American University of Beirut (AUB) in 2014. Through advanced fabrication tools and machines, a collaborative space, and yearly educational workshops, ArD Techlab works on providing both the physical fabrication needs and digital know-how necessary to support student and faculty work in the field of experimental digital design. Part of the lab's mission is to provide a platform for advanced digital design and fabrication at ArD, and AUB at large, and to connect to the larger design industry in Lebanon. The objective of the lab is to become a hub for digital design and fabrication, to be a space for creating, tinkering, and advancing research within the larger design field, and to continue to be a state-of-the-art facility that pushes innovation through intersecting advanced technology with design experimentation.
The lab currently consists of various advanced technologies and machinery for fabrication in subtractive manufacturing (such as CNC routers and laser cutters) and additive manufacturing (such as plastic and clay 3D printing), in addition to hot wire cutting, vinyl cutting, and 3D scanning.
The lab additionally provides AUB trainings and workshops on advanced digital fabrication through student orientation sessions, courses / studio support, faculty research, and collaboration with ongoing initiatives at ArD and MSFEA at large, such as the MSFEA FYP Accelerator program and the MSFEA Summer Youth program.
Links
Lab Capabilities
3D printing
CNC-Milling
Laser
Precision milling
Vinyl cutting